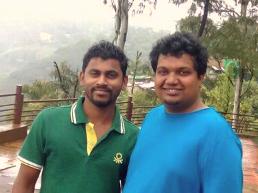 Namaste!
We are Vikrant and Nilesh, buddies who grew up together in Ganpatipule, went out to explore and today we are back to our roots. As we begin our journey towards providing you a comfortable stay in Ganpatipule, here's a bit about us.
We both belong to two different streams, one from Aeronautics and another from ITI Mechanics. What brings us together is our passion to make a difference to those who seek to relax, away from the everyday routine.

Till standard 10th, we practically sat on the same bench, shared same lame jokes, raced barefoot along the beach, sat beneath the blue skies discussing life in the midst of greens. We did not realise how much we would miss all this until one day we both parted ways for our education.
Ganpatipule in itself has a charm of its own, unlike any other place. In the course of our educational journey, we both had visited various places in Maharashtra, many being religious places. However, sometimes the trips became a mere routine with nothing insightful. At many places either one of us would either get fleeced or end up staying in a not-so-great lodge.
During our journeys we realised that each place had its own uniqueness and you can truly enjoy its essence, if you have a great local friend from that place and a comfortable stay. This is where we thought that what if we became a friend cum guide for our every guest that came to Ganpatipule.
And with this we embarked on our first venture in Ganpatipule. Our dream is to offer a delightful experience to every guest, coupled with hassle-free stays.
As we truly believe, 'Atithi Devo Bhav'.
Munira Morbiwala - Advertising and Promotion
Viredra Kasar - Research and Development
Divya Rasal, Shriram Shahane - Legal and Financial



About Ganpatipule
Ganpatipule is one of the most popular holiday destinations for people across Maharashtra and other parts of the country. It also sees many international tourists for its enriching experience unlike any across the Konkan belt. Despite turning out as favourite hotspot among holiday seekers Ganpatipule has maintained its scenic beaches, clean and green environment, and its cultural roots. The famous Swayambu Ganpati Temple is one of the main centre points for religious and cultural programs. Our vision is to promote Ganpatipule as one of the best tourist destinations in Konkan. We seek to bring forth affordable and budget resorts and hotels in Ganpatipule.
Book budget, cheap, star and luxury Ganpatipule hotels and resorts at HotelsinGanpatipule.com | Best accommodation offers on Ganpatipule hotels | Check Ganpatipule hotels reviews, rates, view hotel photos and Ganpatipule hotel booking information online.